Spread The Love
We would love you to support Bride of Colour! How can you do this?
Well, if you have a blog, you can add the button below – very minor html involved, I promise!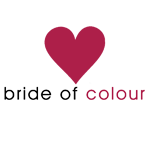 If you have been featured on the Bride of Colour Blog, there is a special vendor button for you too!

FOR THE HTML CODE FOR BOTH OF THE ABOVE – CLICK HERE!
For all you facebookers – we haven't forgotten about you – like us and also there is a fab photo you can add to your facebook wall.
Don't forget to add us to your twitter and facebook and pop over and say hi!
Tell people about us! Tell them to pop over to the blog and have a read – there is always virtual tea and biscuits available!
Submissions – we love submissions – see the submissions page for the full monty!